FUNGAL NAIL TREATMENT
​At Coventry Foot Clinic we often use the Lacuna Method - a simple effective treatment for fungal nails. 
What is the Lacuna Method?
​Lacuna means cavity or unfilled space. A fungal nail is actually caused by an infection of the skin underneath the nail. There will be a space between the nail and the skin, the Lacuna. The Lacuna method allows the anti fungal treatment to treat this hard to reach area through tiny holes carefully placed in the nail. Suitable for ages 16 and over.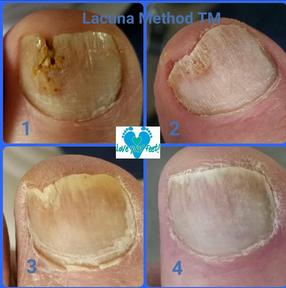 Are my nails fungal? Signs include:​
Thickened nails
Crumbly or brittle nails
Distorted in shape or lifting
White, yellow or brown nails
Nails without a healthy shine
Lacuna method for fungal nails involves:
Pain free safe treatment
Micro holes in the nail allow an anti fungal treatment to reach the point of infection directly under the nail
Continued once a day application of anti fungal treatment allows the nail to grow out healthily​​
Call us for an appointment
If you have any questions about the services we offer, then give us a call
"Julia has a very caring, confident approach. She is thorough, explains if there are any problems. I have total trust and confidence in Julia."
"It is nice to have a chat whilst having feet done."
"I like the way Julia rings me to remind me of appointments."
"Julia is always very considerate to my well being. She goes that extra mile."
"Julia is always cheerful and takes interest in her customers."
"Julia is very professional and my feet are left feeling silky smooth and pain free."
"I have happily recommended Julia to my friends."
"Julia is always very informative and anticipates any potential problems."
"Never been to a chiropodist before but number one for me!"
Why not leave a review ...